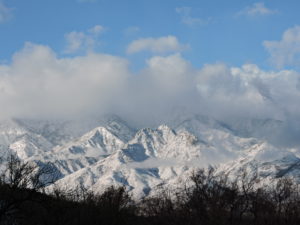 "Seeing our greatness in affliction"
By James Anthony Curtis
The past few days near Mt. Graham, Arizona, the temperature where we are staying has dropped significantly, the wind adding to the chill goes right through the body, piercing the marrow in the bones, until it feels like there is just no warmth left to the soul. You begin shaking, seeking out any place that might bring some relief, even acting out in mannerisms that might be very telling of the desires locked away within our mortality. Anger, frustration, and depression are common elements that arise as the cold seeps into the body.
Back east, every winter this seemed like a mass exodus in emotional waves that would cover the small town of people when winter began its arrival. The mountains of the Alleghenies though, have a way of hiding the sky, even their greatness, as the hills are close in relation to one another, providing a sense of density that out west does not have. And the humidity seems to stick with you, clinging, in all its various forms, creating a weight of sorts, that feels very much like your body is oppressed in reasoning as to why you would 'live where you live.'
But the point of it is, we have chosen, each of us, to live where we live, be with whom we are, even if we are caught in habitual patterns of arrangement unconsciously, seemingly through no control or thought of our own. In an inclusive universe, although it may not feel like it, those very parts that are under affliction, are streaming information to the whole of creation as to what we like, even in our 'dislikes.' More importantly, as we learn to listen to ourselves, the places within us that surface in emotion, are coming forward to ask or reveal what it is we truly desire. This is always love, in some form or another, whether it be nurturing, holding space, or acknowledgement, our divinity is the love manifesting circumstances for us even though it may appear we have not chosen them. What we do with our response, or reaction, how we treat ourselves through what comes forward, is the love we have been gifted with for shifting our vibration. How we meet life, even in our dislike of circumstances, produces a way forward for the expansion of the heart, which in turn allows room for us to grow in our eternal form. We can either choose to embrace the beauty in our orchestration, acknowledging the genius source creators that we are, or continue on in our patterns, seeing only what we wish to see until we are ready. In either case though, love again is the point in our choosing, beit conscious or unconscious in our awareness.
It might bring some small comfort that, though I am aware of this process, each time is an opportunity to move through it with grace. The 'unmerited favor' comes from allowing me to be with me, finite self to connect with infinite self, choosing to abide with strong feelings, uncomfortable sensations, while holding the heart with love, and not abandoning or rejecting it along with the cold.
Today as I look up at the majesty of the mountain, I feel the incredible wealth of colds affliction, the greatness in our mortal journey, why we are revered above angels, because of the pilgrimage we have chosen. With each breath we open ourselves to the one that is coming forth, that desires more than anything to be born, to live as god incarnate here in earth. The fears that we feel are only the pains of being squeezed into this tiny frame, so we feel as we are ready, being gentle with our mortality, granting passage to our afflictions, knowing they are only a part of the birthing process, of coming to know the one we already are, the love that we are, as compassion warms the heart in light for all beings within us.
Blessings my dear friends, much love, gratitude for the heart road we are walking. May it be so, so it is.