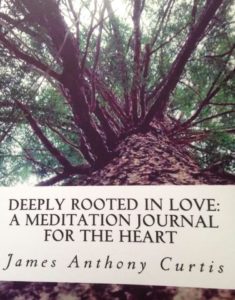 If you are inquiring about "Deeply Rooted in Love: A Meditation Journal for the Heart" the details are posted below! But first, let me say – I'm so thankful for you being here!
I want to take a moment to acknowledge whatever you are feeling, thinking, doing, to say that you are so important to me! May you receive all the love, attention, and the time necessary that so many of us desire!
We all have heard in some various form, degree or another, "Its an inside job," but that said, a lot of what comes to us externally is for the purposing of our self-realization. And although the circumstances, experiences, and interactions we have with our external world are sometimes difficult to feel, our emotions are an integral part of our process in transformation, of becoming the one we have been waiting for, the love we already are.
If you are hurting, struggling, and feel overwhelmed, please take the time to send an email and connect if you desire, or to reach out and share your rich transformation, healing and loving inspirations!
I will try to respond promptly as you are important to me.
mailto:james@deeplyrootedinlove.com
Thank you again, much love, blessings of gratitude for you!
Here is a link to my newest book available on Amazon:
Deeply Rooted in Love: A Meditation Journal for the Heart
"Deeply Rooted in Love," a wellspring of emotional healing by connecting with the infinite depths of the heart. Powerful teachings guised in the form of childlike safety, leading the journeyer inward to those places desiring to be heard, touched, felt by the one journaling.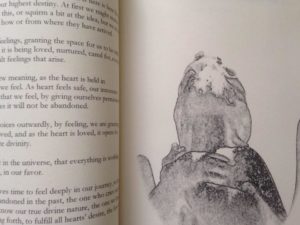 This daily journal guides the user through 365 days of loving questions, healing, and insightful practices that nurture well being with the heart.
Exploration includes:
• Rediscovery of our childlike innocence as a guide to our true divine nature
• Unraveling of egoic patterns through daily practices of surrender contained in journal writings
• Shifting our view in all relationships, and embracing the universal love of their mirroring
• Self-realization through the practice of abiding with strong emotions, while holding space for the loving of our heart
• An ever deepening relationship with personal truth, granting faith in times of uncertainty
"Deeply Rooted in Love: A Meditation Journal for the Heart" guides us into the inner chambers of the heart in compassionate, mindfulness, asking core questions, with ease and simplicity.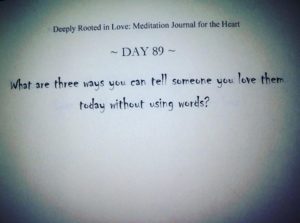 Journaling is numbered by days, so the user may start at any point in the year, allowing the freedom of beginning where needed, as the heart asks to be loved.
"Embrace what you feel. The heart will remember, as your innocence comes forth, the love that has never left you, which you already are."