"Approaching the gates"
By James Anthony Curtis
When nearing the end of any relationship it is common to look back in review, feeling both the joys and the sorrows, and how we lived in our engagement of circumstances throughout asking ourselves what we desire for the future. We sit quietly with our mind, body, and emotions, breathing in the areas that arise in reflection: where we were this time last year, who we were with (which we may do month by month), allowing our senses to remember, and proceed at a pace that feels nurturing to our heart. We notice special occasions, and what made them fulfilling to us, how our body responded, the ease of living, and the appeal to the soul in our contentment. We also hear the pain in our journey, treating it with dignity and respect, acknowledging the importance of love calling out to us from within it. We make no designation between the lines of 'good' or 'bad,' but simply receive energies as allies in forging a deeper relationship with the soul.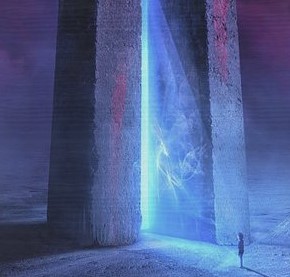 Universal forces work in conjunction with every need, all places everywhere, and we give pause at this time not only to reflect, but to give thanks for sacred design, our design, and those that we have signed sacred contracts with for the expansion of our being.
We abide, allow, and embrace that which we have come to fulfill from our most intimate depths, recognizing that without people, events, and circumstances unfolding as they have, even in dark places, we would be incomplete. And in our pause we find the comfort of ourselves, the lonely one who has held loneliness, the sad one who has allowed sadness, and the fearful one who even though afraid, befriended fear; all of this precious time has given our heart the opportunity to be loved, held, and healed by us as no one else can, which we have long awaited to receive.
So as we acknowledge our blessings, both the dark and the shine of life, and in doing so we come to know god in all our various forms, circumstances, and beliefs, receiving the fullness of our innocence in this moment for all eternity. May we be where we are, feeling what we feel, by both acknowledging where we have been, and where we are going, as the one we already are in the light of loving compassion that is. We are the they, who are leading the front wave of humanity, honoring the one coming forth, however choosing to appear, for the benefit of all beings.
May it be so, so it is.