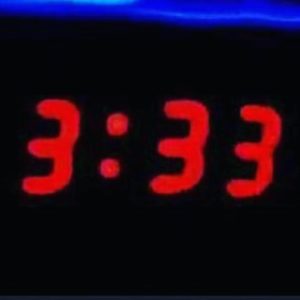 "3:33"
By James Anthony Curtis
It's funny how the transition into colder weather brings things into a quiet stillness. The warmth of the earth, sounds, light, all begin to fade inward as the days get shorter.
As I awoke this morning, getting ready for work, fear came for a visit. Like that uninvited guest that shows up at the most inopportune of times, wanting to eat your food, drink your tea and share about all the things that ache in the hearing.
This morning being so early, I was doing my meditation, morning readings, one of which was on aging, and fear had a lot to say about that subject.
As the conversation went it's way, I tried to breath, the coldness of fears words chilling my heart, I snuggled under my blanket, and my other friend "aloneness" came also to augment all of fears musings.
"Well this is awkward," I said as the three of us tried to stay warm in meditation under my blanket.
It's pretty dark also this early in the morning, which helps the quiet to sound even more deafening in this state.
Then I looked at the clock, 3:33.
No reason in particular, my head just chose to look in that direction when it did, my eyes focusing on the numbers at that point in time.
I breathed a sigh of relief as my two visitors decidedly didn't like that moment and left.
This was the first meaning I came upon this morning, "333: You Are Fully Protected. Divine beings from higher realms are protecting you every step of the way. The number 3 repeated three times means that you are protected by the divinity and surrounded by pure, unconditional love."
Tears began to flow, the heart warmed, and other friends started to come under the covers.
"It's ok" came, and "you are not alone" showed up to remind me I'm being watched over, that this is not a purposeless journey, and even though death is stalking me, this is only a transition, an adventure, not an end.
So today may we embrace our friends, may we feel them fully, trusting in the process of the universe, and all that we are.
May we come to our greatest love, our highest destiny, through all that arises to greet our day.
May we realize that we are not alone, allowing, relaxing, that we may become the one, we already are.